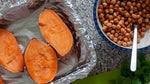 So this recipe is a plant based meal, great for lunch times and also really affordable! I'm intolerant to wheat and dairy (unlike Brock who can literally eat anything and everything!) so sometimes I find it difficult to find an easy lunch time meal as a lot of the time lunches involve bread.
So I've been trying to experiment with the idea of the classic jacket potato and how to mix it up a bit!
For this recipe I love the contrast between the crunchy and spicy chickpeas against the cool lemony yogurt and the soft potato. It works really well and I usually make a big batch of the roasted chickpeas to have throughout the rest of the week.
The chickpeas in this recipe are a tasty yet healthy snack, they can be a crunchy salad topping or great to chuck on top of a homemade bowl of soup! Just pop them in the oven coated in oil and your favourite spices and they can stay crunchy in an air tight container for up to a week! Also never through away the liquid in a can of chickpeas! Known as aquafaba, the chickpea water can be used as a vegan substitute in loads of recipes which usually involve eggs, from meringue to mayo, this ingredient is a handy one to keep! This recipe makes enough for two people. Enjoy!
Ingredients
2 sweet potatoes
2 tbsp olive oil
1 can chickpeas (drained)
100g coconut yogurt
Handful of coriander
Handful of baby tomatoes
1 tbsp Mahi Lemon and Herb sauce
1 tsp cumin
1 tsp ground coriander
1 tsp smoked paprika
Salt and pepper
Coriander 
Method
Pre heat the oven to 200 C.
Wash the sweet potatoes and cut them in half lengthways. Pour 1 tbsp of olive oil over the potatoes and then rub the halves together to make sure its all covered in the oil. Add them to a lined baking tray.
Take the can of chickpeas and drain the liquid, then roll them over with some kitchen roll to get rid of any excess moisture left. Add them to a bowl and pour over 1 tbsp of olive oil, the cumin, smoked paprika and ground coriander. Season with salt and pepper. Toss the chickpeas to make sure they're all covered in the spices. Place the chickpeas on a foil lined baking tray.
Add the two trays of sweet potatoes and chickpeas into the oven for 25 minutes.
Mix together the yogurt and the lemon and herb sauce (we use dairy free coconut yogurt but you could use any plain yogurt)
Chop up the coriander and the baby tomatoes.
Take the sweet potatoes and the chickpeas out of the oven. Score the tops of the potatoes and top with the chickpeas, tomatoes, coriander and then drizzle with the yogurt sauce.