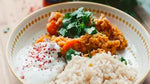 This meal is a simple one pot recipe, perfect for those chilly autumn evenings! It's great for batch cooking, it's easy to freeze and full of simple, low cost ingredients.
The Bhut Jolokia packs a mean punch which fires up the dahl, so we like to pair it with coconut yogurt and brown rice to cool it down.
Ingredients: 
5 tsp Mahi Bhut Jolokia sauce
Coconut oil
1 red onion, chopped
Thumb size of grated ginger
3 sweet potatoes, cubed
2 carrots, sliced
400g of dry red split lentils
2 x 400ml tin of coconut milk
2 large tomatoes, chopped
1 tsp ground cumin
1 tsp paprika
1 tsp curry powder
Salt and pepperServe with
Brown rice
Coconut yogurt
Chilli flakes
Coriander
Method:
Heat a pan on medium heat with a scoop of coconut oil. Add the minced garlic,
chopped onion, grated ginger and chopped tomatoes and stir.
Add the sweet potato and carrots into the pan with a teaspoon of salt. Then add the
cumin, curry powder and paprika. Stir well until the veg start to go soft and is coated
well in the spices.
Add the lentils, coconut milk and Mahi sauce. Then bring the mixture to the boil and
reduce to a simmer. Leave to cook uncovered for an hour until thick and creamy. Make
sure you stir the mixture every 15 minutes to make sure it doesn't stick to the bottom of
the pan.
Once cooked plate up with brown rice, a dollop of coconut yogurt and a sprinkle of
coriander and chilli flakes.