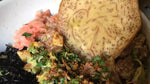 There's no denying that first dates can be incredibly awkward. You're walking into a situation where you're evaluating whether that person could be 'the one'…no pressure or anything. 
Even if you're not looking for the love of your life, there's still the possibility of those dreaded awkward silences that make us want to curl up into a ball and throw ourselves in the bin. It's risky business this whole dating thing, but it's an occupational hazard in the quest to find our other half.
Fortunately, we have a few tricks up our sleeve to turn first date jitters into a success. There's nothing more romantic than offering to cook for someone. It takes time, effort & it also gives you a chance to show off your remarkable culinary skills. But wait! What if your cooking skills don't go beyond not burning toast and throwing frozen pizza in the oven?
Not to worry! This recipe doesn't even require touching your stovetop and is one of the most uncomplicated and painless dishes to make. It also looks incredibly fancy and tastes delicious…sounds too good to be true, right? Take a look below for our easy peasy spicy Tuna Poke piece de resistance!
SPICY TUNA TARTARE RECIPIE
Ingredients: 
1/2 cup mayonnaise
2 tablespoons Mahi Peri Peri Extra Hot Sauce
1 squeeze of lime
¼ cup of chopped mango
1 teaspoon miso soy sauce
3/4-pound of fresh raw tuna
1/4 cup finely diced spring onion
1/4 teaspoon of Mahi Extra Hot Peri Peri Sauce
1 avocado chopped into small pieces
½ cup of black rice
1 Tbsp. of thinly sliced radish
1 sprinkling of crispy onion
1 tsp pickled ginger
A dash of coriander
Method:
Mix the first 3 ingredients in a small bowl to make the spicy mayo
Dice the tuna into small cubes.
Place tuna and chopped mango into a bowl and mix with spicy mayo and start to gently mix.
Begin building your bowl starting with a base of avocado, radish & spring onion.
Pour spicy tuna mango over the base mix and give a good stir.
Add a side of ginger and pour the miso soy sauce over the bowl
Sprinkle on the cilantro, sever with rice and taco chips & enjoy!
Social Caption
Did someone say Spicy Tuna Poke? A little gourmet goes a long way…& so will the deliciously addictive spicy mayo we have to pair with this absolute showstopper of a recipe! #SaucyMahi #Fancypants #mayoformiles