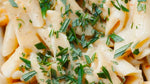 This is an easy, creamy, pumpkin sauce mixed in with pasta, cooked in the oven and then topped with crispy bread crumbs and fresh rosemary!
Using the nutritional yeast, it makes the sauce tastes so cheesy, you wouldn't know it was dairy free! We love this time of year because it's pumpkin season but if it isn't then you can use butternut squash instead!
Ingredients: 
280g pumpkin
250g penne pasta, cooked For the sauce
2 tbsp Mahi peri peri hot sauce
2 garlic cloves
3 tbsp nutritional yeast
1 tbsp coconut oil
1 cup coconut milk (you can use any dairy free alternative)
1 tsp salt
Pinch of black pepper
1 tbsp thyme
2 tbsp lime juice For the toppings
30g breadcrumbs (we used Gluten free which you can get in Tesco)
1 tbsp olive oil
1 tbsp fresh rosemary, chopped
Method:
Preheat the oven to 180o. Cube and cook the pumpkin for 30 minutes in the oven.
 Cook the pasta in a large pan of salted water.
 To make the sauce use a blender. Add the cooked pumpkin, minced garlic cloves, nutritional yeast, coconut oil, coconut milk, salt, pepper, thyme and lime juice. Blend together until smooth.
Drain the pasta once ready. Add the sauce to the pasta, coating it all well. Transfer the mixture to an oven proof dish.
Scatter the bread crumbs and rosemary on top and drizzle with olive oil.
Bake in the oven for 25 minutes until golden brown.