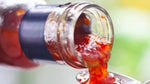 This recipe is a great vegan pudding, it's quick and easy to make and only has 6 ingredients!
Being intolerant to wheat and dairy I've found it difficult to find dessert recipes that are free from so that's why we've come up with this recipe! It's free from dairy, wheat and egg, which are all the main ingredients in most desserts.
You can personalise it too with your favourite toppings, we've gone for chilli flakes but you could top it with chopped pistachios or raspberries.
This recipe makes 2 mousses, just double it for 4⠀⠀⠀
Ingredients:

100g dairy free dark chocolate
1 tsp Mahi cayenne and cranberry hot pepper sauce
1 ripe avocado, halved
1 tbsp cocoa powder
2 tbsp maple syrup
100g carton of coconut creamOptional for toppings
Chilli flakes
Grated chocolate⠀
Method:
Break up the chocolate and melt it in a pan on a low heat.
De-pit the avocado and scoop out the flesh. Add in the avocado, coconut cream,
maple syrup and cocoa powder. Blend it together until it's mixed well.
Pour in the melted chocolate and Mahi sauce and pulse again until the mixture is fully
combined.
Divide the mixture between 2 mini bowls or tumblers.
Top with grated chocolate and chilli flakes.
Put them in the fridge for at least 30 minutes to chill and then serve.