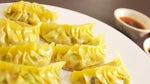 We've created a twist on dumplings by adding in our very own MAHI Scorpion Pepper and Passion sauce. The flavours really compliment this South
East Asian cuisine, and we really hope you enjoy it!
Prep Time-30 minutes
Cook Time– 15 minutes
Cook Time– 45 minutes
Serves-Up to 40 dumplings
Ingredients: 
1 packet dumpling wrappers
2 tbsp sesame oil
2 gloves garlic
1 tbsp minced ginger
1 chopped spring onion
1 grated carrot
1 cup shredded cabbage
1 cup finely chopped mushrooms
1/3 finely chopped red chilli
2 tbsp soy sauce
3 tbsp MAHI Scorpion and Pepper sauce
salt and pepper to taste
1/4 cup water
1 ramekin soy sauce
1/3 chopped red chilli
2 tbsp sliced spring onions
Method:
Make sure to buy round dumpling wrapper, or like we did, cut them out using a glass. The circle shape is required to make the correct shape of dumpling in this recipe.Finely chop all your veggies, and heat your sesame oil in large pan. Add your carrots, mushrooms, spring onion until they turn a light brown. Add in your cabbage with a little salt and cook for another  minutes or so, stirring occasionally.
Add your garlic, ginger and chilli and cook for a further minute to let the flavours infuse.Stir in our MAHI sauce with the veggie bowl and allow to cool.Place 1 heaped teaspoon of your veggie filling into the centre of your dumpling wrapper. Dip your finger into some water and brush the top semi-circle around your wrapper. Fold the dumpling in half and make sure all parts are properly stuck together. Repeat until you've used up all your veggie mix. You can either cook all at once or freeze the leftovers.
Heat your sesame oil in a pan on a medium heat. Add your dumplings (gage how many will nicely fit in the pan without sticking to each other) and fry for 2 minutes/until the bottoms turns a golden brown. Pour in 1/4 cup of water and cover the pan with a lid to allow the dumplings to steam. After 8 minutes, take out the dumplings and let them cool.
Place your dumplings on a plate, fill a ramekin with soy sauce and some freshly chopped chilli and sprinkle some spring onion over your dumplings. Enjoy!