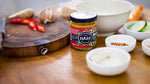 Take a stroll into the East with this delicious Cambodian Noodle Bowl with Marinade Tofu.
In only 35 mins you can be chowing down on the scrumptious meal. 
Prep Time: 20 minutes
Cook Time-15 minutes
Total time: 35 minutes
Serves- 4 people
Ingredients
4 portions thin rice noodles 3 tbsp vegetable oil
2 cloves smashed garlic 1/2 tsp sea salt
1 block sliced tofu
4 tbsp MAHI Wing Marinade 1 cup corn starch
2 cups bean sprouts (blanched) 1/4 cup peanuts
2 sliced spring onions
1/2 sliced cucumber
1 cup coriander
1/2 fresh sliced red chilli 1 quartered lime
2 tbsp soy sauce
Method
Start by marinating your tofu slices in 4 tablespoons of our MAHI marinade and let it sit while you boil your noodles. Bring a large pot of water to the boil and submerge your noodles.
Turn off the heat and allow the noodles to loosen by stirring them. Let them cook for up to 8 minutes, then drain and rinse the noodles under cold water.
Drain in a colander to dry the noodles off as much as possible. Pour your vegetable oil into a large pan and set to a medium heat until hot.
Add the garlic into the oil and cook until golden to flavour the oil, then remove. Toss into the noodles for a few seconds and add some sea salt. Remove noodles and divide into bowls.
Place your tofu strips next to a bowl of corn starch, and submerge each slice until all sides are covered and set aside onto a new plate. Once all are coated, place them into a hot pan and sear off each side for 2-3 minutes, or until golden brown.
Remove your tofu from the pan and place onto a plate. To serve, top each noodle bowl with the bean sprouts, peanuts, cucumber, spring onions and your fried tofu.
Garnish with coriander, fresh chilli and lime - you can even drizzle a little more MAHI marinade for a bite! Time to dig in...