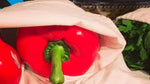 Sleeping all day, partying all night, fresher's week at university is full of debauchery with students running wild and free.
It's all fun and games when the pub-crawl t-shirts are on and the drinks are flowing, but as soon as classes start, the real hard-work begins. It's during those first few weeks when you start to settle into your routine and realize that looking after is harder than you think, and a decent diet is a major part of the battle. It's pretty easy to slip into the routine of cheese toasties for breakfast, lunch and dinner when you're running to lectures, socials and cramming coursework in between.
Eventually you're going to get fed up of the same old cheesy sandwich and your body is going to be craving mum's home cooked food. Fortunately, we have just the ticket, this delicious and nutritious shakshuka recipe can be whipped up in just under 20 mins. Grab your housemates and share this delicious weekend brekkie with friends…we're sure this will win you some serious brownie points!
HALL-HACK SHAKSHUKA
Ingredients: 
1 tablespoons olive oil
5-6 eggs
½ medium red onion, peeled and diced
1 sprig of spring onion, chopped
1 clove garlic, minced
1 medium red bell pepper, chopped
1 handful of cherry tomatoes, halved
2 cans of diced tomatoes
2 tablespoons tomato paste
1 teaspoon cumin
1 teaspoon paprika
A healthy dose of Mahi Extra Hot Peri Peri Sauce
1 red chili pepper chopped for extra heat (optional)
Salt and pepper to season
Method:
Dice the onions and garlic and sauté them in a deep-frying pan
Dice the tomatoes and peppers
Sauté the tomatoes & peppers until soft and add the cans of chopped tomatoes.
Add tomato paste and stir until thickened.
Season with salt and pepper. Add in the Mahi Red Savina Habanero and paprika…the amount is up to you depending on your own personal spice-o-meter.
Crack the eggs into the pan and space them evenly throughout the pan.
Cover the pan with a lid and let the eggs cook.
It is now ready to be severed straight from the pan. Place in the middle of the table and let the feasting commence.
Social caption:
Skip your soggy cereal for a plateful of tongue-tingling shakshuka to start your day off with a kick! #SaucyMahi #breakfastisserved #onepotmeals #eggsinpurgatory