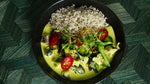 Best country for: 
Pho Dishes = Vietnam
Naturally when we think of Vietnamese food, our minds will instantly go to Pho. And for good reason, too. This fresh noodle soup is not only a staple in Vietnam, but has made its name known internationally now, too. Be sure to ask for "an chay' - this means vegan and is imperative to ensuring your pho is not made using a meat broth (this can happen a lot!). Once you've mastered your pronunciation (think Furrh not faux) for Pho, you're likely to enjoy one of the best noodle soups you've ever had. Vegan Pho comes with many vegetables but typically, little white mushrooms, beansprouts, carrots, asian greens and loads of glass noodles! You can garnish with the usual chilli, soy and lime combination for an extra kick, as well.
Note: You can find 'vegan pho' on the streets of Saigon, but there is no guarantee the stock is vegan, too. We advise sticking to vegetarian & vegan restaurants for now.
Noodle Dishes = Thailand
Chang Mai is now more recently known for its influx of vegan travellers, due to its unique Issan cuisine. Issan food was developed near the Myanmar border where the ingredients that were readily available were mostly plants and roots. This created a new area of cuisine in Thailand and has since caught the attention of many global vegans. The Night Bazaar is a must for some of the best wok-fried noodles we've found in South East Asia, and is insanely cheap too! There are now many veganized options to choose from and the market itself is something pretty amazing to behold.
Note: Despite the influence of Issan cuisine, there are still many street
vendors cooking with fish sauce so be sure to mention you don't want it in your noodles.
Rice Dishes = Cambodia
Rice is a staple across the board in South East Asia, but we've found (surprisingly!) Cambodia to have the widest variety of vegan rice dishes - and some of the tastiest! What works really well is when they take a Cambodian classic and convert it to a vegan alternative. A favourite has to be their Vegetable Amok. Typically, it's made with a white fish, though the vegan alternative is excellent. It's a traditional Khmer dish made using coconut milk, curry paste and vegetables, all steamed in a banana leaf. Our dish had tofu instead of the fish, and it was incredibly delicious. This is by far one of the best flavours we found in Siem Reap, and frankly, the whole of Cambodia!
Note: Be sure to double check when ordering that you specify you want vegan and/or vegetarian - a couple of times we've experienced a bad language barrier (our fault entirely!) and ended up with minced pork instead of minced tofu!
Curry Dishes = Malaysia
While Malaysia is a melting pot of cultures including Indian and Chinese cuisine, Malay cuisine still reigns highest countrywide. One of the best, and most traditional Malay dishes is of course, their Laksa. Simply put, it's a essentially a coconut milk based noodle curry which received a Portuguese spice influence once upon a time, and is now Malaysia's most loved dish. It hosts an array of flavours including ginger, chilli, coriander, garlic, peanuts and turmeric. Its typically served with beansprouts and lime on top, which is a delicious way to cut through the rich creaminess of the dish. From Kuala Lumpur to Malacca, and Penang to Langkawi, you are guaranteed to find a deliciously authentic Laksa Curry.
Note: Fish sauce - again! It can be harder to find a Vegan Laksa Curry outside of the big cities, so be sure to mention "Tolong beri makanan sayur sahaja." - translating to "please give me vegetarian foods only."
Laap Dishes = Laos
For those of you unfamiliar with "laap", it's basically a mixture of asian salad, (typically speaking) some stir-fried chopped meat or fish, and toasted rice. It's flavoured strongly with garlic, lime, spring onion and mint leaves. We managed to find tofu laap and the combination with an abundance of vegetables is a healthy welcome to your digestion - it can take a little adjusting to eating asian cuisine coming from a very westernised stomach! As the national dish of Laos, Laap is 100% traditional, authentic cuisine, and you can't leave the country without giving it a go! In the capital of Vientiane, there are many upcoming restaurants boasting vegan alternatives to Laap, so you will not be stuck for choice!
Note: Third times a charm... Fish sauce! Usually only found in the meat versions of Laap, but it's always good to double check.
What are your favourite vegan foods you've found in South East Asia? Have you tried any of these before? We'd love to hear your thoughts in the comments...