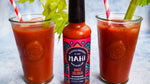 The secret to a killer Bloody Mary or Virgin Mary is lots of ice, a good quality tomato juice and a killer hot sauce. Invented in the 1920's, while Tabasco is the usual choice, we're adding an Indian kick with a slug of our Mahi Bhut Jolokia hot sauce.
We have also switched out regular tomato juice for vegetable juice, providing your drink with the same tomato flavour, but with a bit more added depth for an all together more exciting cocktail.
Serves : 2 Pepole
Ingredients: 
320ml chilled vegetable juice
2 tbsp fresh lemon juice
1/2 tsp Mahi Bhut Jolokia Sauce
1/2 tsp Worcestershire Sauce
190ml vodka or gin
few grinds black pepper
2 large handfuls ice
2 celery sticks with the leaves attached (optional, for garnish)
Method:
In a large jug, combine the vegetable juice, lemon juice, Bhut Jolokia, Worcestershire Sauce,vodka, and a generous few grinds of black pepper.
Divide the ice between two tall glasses, and garnish each with a celery stick, if using.
Pour the Bloody Mary mixture over the ice and serve immediately.