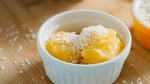 This recipe makes a velvety sorbet, perfect on its own or tasty served with meringue and topped with fruit. Mango and pineapple go so well together, so with the creamy texture of the sorbet and then with the kick of the chilli this is a great, quick and simple vegan pudding! 
Ingredients: 
1 cup frozen mango (we froze ours overnight)
1 cup frozen pineapple
2 tbsp maple syrup
1/2 tsp Mahi Carolina Reaper and Pineapple
Zest and juice of 1 lime
To garnish
Method: 
Pop the frozen mango and pineapple into a blender.
Add the lime juice, maple syrup and Mahi sauce.
Blend everything together to a smooth consistency.
Transfer the mixture into a dish to scoop from
or straight into a bowl to serve.
Top with desiccated coconut and a few mint leaves. Serve immediately or freeze it until ready to serve.