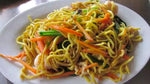 Here at MAHI, we have a global network of Sauceologists (our team members) and followers from all over the world.
We recently got chatting to a couple of our travelling members about their latest trip to Cambodia. We were intrigued to know if they came across many vegan foods throughout their Cambodian trip, and if so, which were the best ones to try.
They managed to find five delicious options to choose from, and honestly, we just can't wait to try them! They even mentioned how delicious our MAHI sauces were with the dumplings, and they've made their own video about it! From us for now, it's time we handed over to our Cambodian travelling duo:
1. Vegan Dumplings, Ecran Noodles, Kampot
Situated across from the Kampot Riverside, lies a rather inconspicuous little restaurant named Ecran Noodles. It is set amongst palm trees and banana leaves to the point you can barely see the entrance. Their menu is simple, hosting 3-4 dishes consisting of either noodles or dumplings. We always opt for the dumplings because they are out of this world! Both options come in a soup broth, and if you take the vegan option, their broth is made separately using vegetable stock only.
Their dumplings are stuffed with mushrooms, garlic and spinach, floating in a rich soup along with some vibrant bok choi It is simple yet divine, and makes your tummy feel all kinds of good. We made our own version here using some of the MAHI Scorpion and Pepper Sauce which gave our filling that bite we only might have been missing!
2. Mango and Sticky Rice, iMango Dessert and Coffee, Phnom Penh
As you stroll through the chaos that is the capital of Cambodia, Phnom Penh, you'll notice the many street vendors, Cambodian local restaurants and Western alternatives on almost every street. There are of course tons of places you can find the infamous mango and rice combination, but this is by far the best we've tried! Their rice is perfectly sweetened with coconut milk, and the tartness of their mango compliments the dish so well. This is considered a Cambodian delicacy and is very common amongst Khmer people and their culture. It's a must!
3. Fried Tofu Wok Noodles, Pub Street, Siem Reap 
The first thing we noticed about Siem Reap was the lights! Though a far smaller city in size, Siem Reap makes up for it with an abundant night life and delectable street food! It's near impossible to visit Siem Reap without heading down Pub Street for a $0.50 beer or two, and a huge portion of noodles! Our favourite stand was situated opposite the main strip of Pub Street, with over 30 fresh vegetables and noodles to choose from, where your ownmade noodle dish is wok-fried right in front of you. It's amazingly fresh and let's be honest, perfect for a night on the town!
4. Vegetable Tom Yum Soup, The Vegetarian, Phnom Penh 
Tom Yum Soup is a go-to dish in Cambodia, typically served with chicken or beef, however, we were delighted to stumble across the vegan alternative at this restaurant in Phnom Penh! The Vegetarian boasts a ginormous menu with vegetarian (and vegan) takes on Cambodian classics. Tom Yum is a rich soupy broth thats base is mostly tomatoes, onions and ginger, but incorporates many other vegetables such as mushrooms and peppers, and always served with sticky rice. Though not the easiest to explain, you really have to try it to know for yourself! Check out the recipe online, too - it's easy to make and full of wholesome goodness.
5. Rolled Banana Cake, Kep Crab Market, Kep 
If you're ever down by the coast of Cambodia, there's a strong chance you'll be heading to Sihanoukville to take a boat over to one of the islands, or cruising past Kampot down to Kep. Here you'll find one of largest markets we've seen in Cambodia, and due to its seaside location, is known for its crab! Not to fear - we found many vegan options there, too! Cambodian's are renown for their sweet tooth, and this sticky, little snack is not exempt!
Rolled banana cake is pretty much as it sounds, however they incorporate sticky rice in with the banana to give it more substance, before rolling it up in the banana leaves and steaming it on an open fire. The smell is incredible, and the rich, chargrilled taste is even better! This is really soulful street food at its best, served up with a warm, open smile.
Wherever you wind up in Cambodia, rest assured you can find vegan options almost anywhere. If all else fails, rice, noodles and veggies are also great alternatives! If you mention any of the above foods to a local, we're sure they'll help you find your way. We really hope we've inspired you to come to Cambodia and experience some unique and cruelty-free foods along your travels!
So, there you have it! Five Cambodian foods you didn't know were vegan, and neither did we!
Until next time,
MAHI