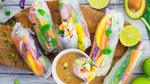 So, you've seen those multi-coloured wraps all over Pinterest and want to make some of your own? You've come to the right place! We've created some vegan rice paper rolls and used one our spicy MAHI sauces to compliment the dish! Let's get started…
Prep Time – 20 minutes
Cook Time – 0 minutes
Total time – 20 minutes
Serves – Up to 8 rolls
Ingredients
3 cups coriander
2 ripe sliced mangos (long strips)
1 shredded carrot
1 shredded red cabbage
2 sliced jalapeños
4 chopped spring onions
8 rice papers
1 ramekin MAHI Cayenne and Cranberry sauce
1 sprinkle sesame seeds (optional)
Method
Fill a shallow pan with warm water and fold a tea towel next to the dish,
and your spring roll fillings close to prepare.
Place one rice paper in the water and let it sit there for about 20
seconds. Go by feel mostly, but wait until the sheet is evenly wet, but
not super floppy. Lay it flat onto a tea towel.
Fill the rice paper with your chopped coriander, lining the centre. Add
four slices of mango, along with several shredding of carrot and red
cabbage, and finally the jalapeño. Finally, sprinkle some spring onions
along the top.
Fold over one long side to enclose the fillings and then fold over the
shorter sides, roll it up and stretch the last long side to seal your rice
paper roll. Repeat until all ingredients are finished.
Serve by slicing the rolls on the diagonal in half, with a ramekin filled
with our MAHI sauce. Dip away and enjoy!