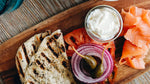 After a heavy session of lovemaking, it's perfectly normal to be exhausted – at least, we hope you are… if you aren't then maybe it's worth going again? 
Anyway, back to the matter at hand. We're firm believers that it isn't a successful lovemaking session unless you're tired and hungry.  That's why we came up with the three ideal meals to cook for you and your partners after some rumpy pumpy. 
---
A cool-down session
After a rumble around in the sheets, it's natural to be hot and sweaty. An easy way to cool down is to let your body do its thing: sweat. If you want to keep that sticky feeling lasting for a bit longer, it may be worth turning to hotter foods to speed up that process. Our go-to for hot foods is always something like a spicy curry as with a dish like this you can always amp up the spice level for individual people. For those who really like it hot, may we recommend a phaal or vindaloo. If you want to give it that extra bit of edge, however, we also advise throwing in a few drops of the Saucy Mahi Scorpio and Passion sauce. It's one of our hotter sauces and is made from Trinidad Scorpion Peppers.
---
Aftercare
If you've worked up a different kind of appetite after your nightly (or daily) activities, then you may be looking for something comforting to fill the hole in your stomach; and we do mean the hole in your stomach and not anywhere else, get your mind out of the gutter! Some of you may reach for the Domino's pizza menu, and we don't judge you. But we do recommend our Peri Peri Garlic hot sauce to go right along with it. Any Garlic and Herb dip is heavenly, but nothing quite beats the kick of a hot sauce from Saucy Mahi. 
---
Sharing is caring
We hope you gave as well as took in your previous activities, and if you didn't then first, get back to it. After you've finished that, it's time for you to make it up to your partner(s) by making a dish that you can all share and enjoy.  In this instance, we always recommend nachos. It's quick, easy, and satisfies all those other cravings. However, alongside your nachos, we also recommend the Jerk Barbeque sauce. It's made from a mix of Habanero peppers, basil, and thyme, and easily leaves you wanting more… More of what, well, that's up for you to decide.