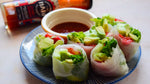 Makes 6 Summer Rolls
Ingredients: 
6 rice spring roll wrappers
4 large strawberries, sliced
1/4 cucumber, peeled and cut into matchsticks
1 small avocado, peeled and sliced
small handful shredded baby gem lettuce
1 large spring onion, shredded
Mahi Cayenne & Cranberry Chilli Sauce, for dipping
Method:
First, prepare all your veggies, laying them out so you can easily access them while you're assembling your rolls.
Run the kitchen tap as hot as it will go, and fill a large pasta bowl, just slightly bigger than your spring roll wrappers with water.
One by one, soak the wrappers in water until the little lines on them just vanish, then carefully lay the wrapper out on a clean chopping board. You'll find they're tricky to handle, but you'll get the hang of it! The less time you leave the wrapper soaking the easier it will be to control.
Start with a couple of strawberry slices, face down so you can see them through the wrapper. Then follow with a few cucumber sticks, avocado slices, spring onion pieces and a bit of lettuce. You'll want to place the fillings in the middle of the circle, about 1/3 up leaving 1/4 free at each side. It is a bit like drawing an expressionless mouth on the face of the spring roll wrapper!
To wrap the roll, fold the bottom lip up over the fillings, and press gently to seal; the damp rice paper should stick to itself. To secured each side, tightly fold in each end to form a rectangle, with the start of your summer roll at the bottom, and a slightly curved top. Tightly roll up the summer roll until the top lip is sealed.
Repeat until you run out of spring roll wrappers and fillings, and serve with our Mahi Cayenne & Cranberry dipping sauce on the side.