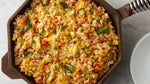 This Vegetarian dish is full of flavour and colour but with no-carbs.
Ingredients: 
Cayenne & Mint MAHI
Bunch of Spring Onions
2 sticks of Celery
1 Courgette
Small Tin of Sweetcorn
Small Tin of Chopped Tomatoes
Cauliflower Rice
Cherry Tomatoes
Olive Oil
Fresh and Dried Mint Cooking
Method:
Trim and dice a bunch of spring onions. Lightly stir fry them in a little olive oil for two minutes.
Finely dice 2 sticks of celery and add to the pan.
Trim the courgette and slice into chunky pieces, roughly cube-shaped.
Drain a small tin of sweetcorn and add to the pan, with more olive oil as needed.
Cook for 5 minutes and then add some tinned chopped tomatoes.
When the tomatoes start to bubble, add plenty of Cayenne and Mint MAHI.
While that warms, lightly stir-fry cauliflower rice with a little olive oil and a sprinkle of dried mint.
Serve the cauliflower rice on the plate and put the tasty sauce on top.
Finish the meal with a couple of cherry tomatoes and fresh mint from the garden
Enjoy. From love with MAHI!