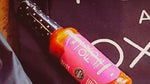 A huge congratulations to Oxford Foundry on a very successful launch day.
Inspiring talks on the day - "Your focus group is yourself - you should make products that you want to use."You can bet if you love it, many other people out there will love it too."
The Oxford Foundry building, which was originally a Victorian ice factory, includes working spaces, presentation areas and a cafe. It will channel academic research commercially, bring world renowned figures in to talk to students, host problem solving competitions and workshops, and provide a start-up support programme.