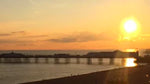 Thank you to all that came by and tried some our saucy creations! We really had a fantastic time at the Brighton Chilli Festival on 16th & 17th September 2017! 
Was a great pleasure to meet such a lovely bunch of people. We have lots of pictures and videos coming up soon from our two days of fun and frolics so do keep an eye on our social media.
Mark Coles was the notable Winner of the Mahi Chilli Shot Challenge! Well done Sir! Special thanks to Fiery Foods for organising an amazing weekend.
Hope to see you all very soon!