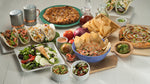 According to a social media insight from spice specialist Santa Maria, Mexican food is 2021's most popular Veganuary cuisine for the second consecutive year. Among Veganuary posts in January 2021, Mexican took the lead over Thai, Middle Eastern, and Indian cuisine, indicating it's an important factor to maximise the growing category and promote it to customers.
Mexican food was the most discussed topic in the Veganuary conversation in 2020 with 18% share, and it topped the list this year with 21% share. Data collected by social listening tool Delve on behalf of Santa Maria showed tacos and wraps received the most attention, followed by nachos, fajitas and quesadillas. There is more awareness of Mexican food than ever, and brands like Taco Bell have partnered with Gold&Green Foods Pulled Oats® for new plant-based fillings, while Chilango and Wahaca have taken the vegan Mexican movement mainstream. Likewise, Mexican theme days such as "Taco Tuesday" and "Fajita Friday" provide another excellent reason to visit the store.
The Sales, Shopper & Marketing Co-ordinator of Paulig says: "Mexican cuisine is much more than just dinner. Over 218 million Mexican meals are eaten every six months on average, and during the last six months of the lockdown, the cuisine has grown by 15%. 33 million extra meals were eaten by Mexicans during lunchtime, which accounted for a long chunk of this growth. More than 15 million Mexican lunches have been consumed in the same timeframe."
Mexican recipes with cauliflower, especially tacos, seem popular, with a rise in mentions from last year. Fries, rice, and garlic bread were the most prevalent Mexican carbs, even with non-Mexican foods. In addition, it appears there is a trend toward blending Mexican dishes with high-protein vegan options, like Mexican bean vegan pasties.
Santa Maria's Taste Creator Barny MacAdam said: "The continued rise in popularity of Mexican dishes during Veganuary reinforces that Mexican and meat-free are a perfect match. Plant-based protein alternatives like Pulled Oats®, are great for texture and nutrition and absorb flavour well, which is why spice plays such a vital role. Mexican cuisine is defined by its distinctive spice blends, and they can be applied to any carrier and have delicious results meaning consumers are happy to swap from meat to an alternative without sacrificing the tastes they love. Mexican spice flavours aren't limited to wraps and tacos, they can add depth to soups, stews or for dirty fries, transforming any ingredient into a Mexican fiesta of flavour. 2021 looks set to be another year of the Mexitarian."
In one year, Veganuary broke the record with over 580,500 signups, surpassing 1 million participants since 2014. In addition to that, only 10% of people intend to return to their original diet after Veganuary. Additionally, 41% of consumers are actively reducing their meat consumption or eliminating it altogether.