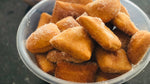 These amazingly soft triangle-shaped doughnuts are very famous in East Africa. They are excellent with a cup of tea or coffee. You can serve it with either honey, jam or curry.
Ingredients
for 40 mandazis
3 cups all-purpose flour (375 g), plus more for dusting
½ cup sugar (100 g)
1 ½ teaspoons baking powder
2 teaspoons ground cardamom
½ teaspoon kosher salt
1 egg, beaten
13 ½ oz coconut milk (400 mL), 1 can
oil, for frying
Preparation
In a large bowl, whisk together the flour, sugar, baking powder, cardamom, and salt. Make a well in the center, then use a rubber spatula to mix in the egg and coconut milk until the dough comes together.
Turn the dough out onto a floured surface and knead until smooth. Dive the dough into 4 portions. Roll out 1 portion of dough into a circle about ¼-inch (6 ml) thick. Cut into 8 triangles. Repeat with the remaining dough portions.
Heat the oil in a large pot until it reaches 350˚F (180˚C).
Working in batches, fry the mandazi for 2-3 minutes per side, until golden brown. Drain on paper towels. Serve as breakfast or a snack with 5. Kenyan coffee or chai.
Enjoy!