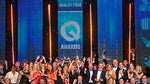 The Quality Food Awards are one of the UK's most prestigious mark of excellence for the nest food and drink products on the market today.
Each year, for almost 40 years, they have been championing and celebrating the best of what is available to consumers on supermarket shelves; http://uk.qualityfoodawards.com.
During Summer, earlier this year,  a team of almost 200 industry professional judges tasted and debated their way through a vast selection of entries.
It was a magical evening, topped off with us picking up the Award for Best Sauce - Mahi Peri Peri Hot and a Commendation - Mahi Tamarind & Mango in the 'Sauces & Salads Dressings Category'.