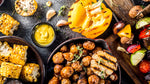 We know, things might not look how we all expected them to, but after this year, we all deserve to celebrate the new year in style.
So, are you going to host a New Year party? If you are, then we have a few suggestions of ways that you can spice it up – of course, they're all hot sauce themed. 
Food that makes a bang!
It's not a party without the right food, so here's a few suggestions of party food that leaves a kick: 
The classic chips and dip:

everyone loves salsa and crisps

, so why not leave some out? You can add as much hot sauce as you want to the dip and it's the perfect dish for people to enjoy as and when.

 

A hot sauce dip: Although this is slightly similar to the above dish, the perks of this dish is its flexibility. You can use any food and dip it in hot sauce for it to be delicious really, think about it: potatoes, carrot or cucumber sticks, prawns, chicken wings. Anything. And it works.

 

Jalapeno poppers: a delicious treat for many people,

jalapeno poppers

are great for those who can handle the spice. All you need to do is wrap them in some bacon and cheese, cook them off, and you've got an easy and delicious party food.

 
Cocktails that leave some heat
Part of the fun of New Years is to see the next year in with a drink in your hand – however, for some, there just isn't enough flavour or pizazz in the drinks to leave a lasting impression. 
That's why we've complied this list of drink for those with a spicy inclination: 
Bloody Mary: although this drink isn't for everyone, the

Bloody Mary

is different because of the (not so) hidden ingredient – tabasco sauce. If this isn't enough of a kick for you, then you can throw a few more dashes in and it should scratch an itch.

 

Hittin' the sauce: this cocktail isn't well-known, but it should. Another vodka-based drink on our list, however, this drink mixes in berries, ginger liquor, and of course, hot sauce. Try it this year, for something to warm you up.

 

Ghost Pepper Rye Sour: If you haven't tried this drink before, then grab your shaker because you need to! Whiskey, lime juice, simple syrup, and hot sauce, that's all you need for this simply spicy drink.

 
Games that bring a dash of spice
A New Year's party isn't the same without a game or two, so if you want a spicy twist then here is what you can suggest: 
Hot sauce or shot: we recommend you go careful with this one – and obviously, over 18's only. Grab a couple of shot glasses, fill some with hot sauce and the other with ketchup or tomato juice, put them on a spin board, and have fun guessing which is which!

 

Hot Ones: a classic but a goodie, we've all seen the popular YouTube show – and while you won't be able to bring in celebrities, there's no reason why you and your friends can't challenge each other and see who can try the hottest sauce.

 
Have a great party – let's make sure it goes out with a bang!