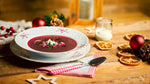 The typical Christmas dinner consists of a few fundamentals: turkey, Brussel sprouts, and pigs in blankets. 
And while our mouths are watering at the mere idea of Christmas dinner this year, we know that for some people, it's not a real meal unless there's a bit of spice to it.
That's why we wanted to discuss the various ways you can create traditional Christmas dishes – but with a twist. 
Hot Sauce tricks
If you're in need of a quick spice fix, then the easiest way to alleviate that temptation this Christmas is to keep a bottle of hot sauce on the table and douse your food in hot sauce whenever the urge strikes you.
A few popular pairings hot sauce goes well with is stuffing, turkey, and potatoes.
However, as any hot sauce connoisseur would know, you can't just put any hot sauce on your food and expect it to be delicious. So, let's break it down for you:
If you're looking to put hot sauce on your Christmas turkey, then it may be worth trying the High River Sauces Grapes of Wrath Hot Sauce. This sauce is the perfect blend of red wine and holiday spices to give you a Christmas kick.
If you're looking for something for your potatoes or stuffing, then a popular favourite is Secret Aardvark. Made from roasted tomatoes and Habanero peppers, this sauce is labelled 'the one to dump on everything' for a reason.
And worse come to worse, you can always make your own – here's a recipe as an example.
Pepper mash
If you have the time, then pepper mash is always a way to go – and acts as a brilliant replacement for cranberry sauce.
Although, the fermentation process may require it to sit for a little while, this one is definitely worth remembering for next year.
While jalapeno peppers are typically used, there's no reason why you can't use your favourites. The whole process for making pepper mash is relatively easy – and is quite literally what it says on the tin, however, it does take time; we've left a recipe for you here to follow.
Some recipes say this could take up to four months for it to ferment, so bare that in mind when you begin making up a batch.
Christmas chilli
If you still don't feel as though you're getting the right amount of spice on your Christmas dinner, then why not skip it altogether and make something seasonal and spicy instead.
We recommend this Christmas chilli.
A mix of jalapeno peppers, tomatoes, beans, and mince, this chilli is guaranteed to warm you up on a cold Christmas day – inside and out. You can find the full recipe here.
At the end of the day, Christmas is about doing what you enjoy – and there's no reason for you to eat something that you find to be bland. So, if you need to spice it up then go for it – but save us some!