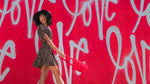 Whoever said Valentine's Day was only for couples was clearly wrong.  For a day that is all about love, it's important that single people also celebrate it.
Because there is nothing more important than celebrating the love you have for your friends, your pets, and your family – but most importantly, the love you have for yourself. So, here's how to have a spicy Valentine's Day for one. 
Treat yourself 
It's not Valentine's Day unless you've given yourself a present. And while the traditional gift is a bouquet of roses, it's a gift that has been done over and over again – and you deserve more than that. 
So, if like us, you have a tendency for things to get a little hot. The perfect gift for you is a little chilli plant. You can easily pick these little guys up anywhere online or in-store. 
Down the hatch 
Of course, it's not a romantic meal if a drink or two isn't involved. And what's more fun than cocktail making? Whether it's a classic like a Bloody Mary (it's just vodka, tomato juice, and hot sauce) or something more elaborate like a Habanero Martini, there's no better way to get into the mood of loving yourself than with a stiff drink. And if that's not hot enough for you then allow us to recommend the Peri Peri sauce, it's the perfect spicy addition to any drink. 
Candlelit dinner
It wouldn't be the day of love without a three-course meal. Here's what we recommend – with added spice, of course. For starters, there's nothing better than a classic bruschetta – but of course, this classic Italian dish of chopped tomatoes on a bed of grilled bread isn't the spiciest. That's why we suggest adding a trickle of MAHI Peri Peri Garlic, for spice that enhances flavour.  For the main course, and your own taste buds may or may not agree with this, we believe there's no better spicy meal than a curry or a classic chilli.
With simple recipes dotted all around the web, you can find one to adapt to your own tastebuds in no time. Now, for the most important course, dessert. During our search for the spiciest sweet dish, we stumbled across Sriracha lollipops, while these may be a little more advance to cook, they sound perfect for those who like things hotter. And if Sriracha isn't hot enough for you then give our Cayenne and Cranberry sauce a whirl. And if cooking sounds like the worst way to celebrate the day of love, then grab a bottle of Peri Peri Extra Hot, call up your local pizza place, and enjoy.
Turn the lights down low
There's no better way to love yourself other than physically showing yourself that love. For the chilli pepper mad, we have found the perfect gift that will get things hot. From Joyline, we have found the Chilli Vibrator. Now, of course, it isn't a real chilli, and we don't want you to scratch the itch with a real chilli as that would equal a trip to the hospital. However, Joyline's Chilli Vibrator makes the perfect plastic friend – and an amazing way to close in Valentine's Day. Have fun!