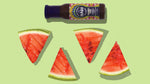 Get your knives ready: These watermelon steaks are hefty, smoky, and perfectly seasoned, just like a nice filet mignon (but completely vegetarian). It won't be the same old boring watermelon slices again.
Prep time: 25 minutes
Cook time: 10 minutes
Total time: 35 minutes
Servings: Up to 4 people
Ingredients
Eight 2-inch-thick watermelon wedges
2 tablespoons extra-virgin olive oil
¾ teaspoon garlic powder
½ teaspoon freshly ground black pepper
½ teaspoon chili powder
¼ teaspoon ground cumin
¼ teaspoon ground coriander
Flaky sea salt, such as Maldon

ARUGULA AND HERB SALAD
3 cups baby arugula
¼ cup basil leaves
¼ cup parsley leaves and tender stems
¼ cup mint leaves
⅓ cup extra-virgin olive oil
Juice of 1 lemon
Kosher salt
Freshly ground black pepper



Preparation
1. MAKE THE WATERMELON STEAKS: Heat a grill or grill pan over high heat. Brush both sides of the watermelon wedges with the olive oil.

2. In a small bowl, combine the garlic powder, black pepper, chile powder, cumin and coriander. Season each watermelon wedge with the spice mix.

3. Grill each watermelon wedge until char marks appear, flipping once, about 3 minutes per side. Transfer to a plate and season with the flaky salt.

4. MAKE THE ARUGULA AND HERB SALAD: In a large bowl, toss together the arugula, basil, parsley and mint. In a medium bowl, whisk together the olive oil and lemon juice; season with salt and pepper to taste. Toss the dressing and the goat cheese with the greens.

5. To serve, place 2 watermelon wedges on each plate and top with the salad.
 Enjoy!