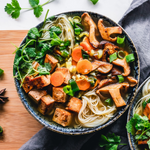 Astonishing, vegan ramen made with mushroom stock, fresh tofu, and
miso-cooked vegetables. A good, fulfilling, and scrumptious plant-
based dinner.
Ingredients
•
1 Tbsp grape seed or avocado oil
•
1 medium yellow onion (coarsely chopped)
•
6 cups vegetable stock
•
2 Tbsp soy sauce
•
5 cloves garlic, roughly chopped (5 cloves yield ~2 1/2 Tbsp or 18
g)
•
1 3-inch piece ginger (peeled and diced)
•
15 g dehydrated shiitake mushrooms
•
1 Tbsp white or yellow miso paste (ensure vegan)
•
1 tsp sesame oil
•
230 g ramen noodles (ensure gluten-free and vegan)
•
Heat a large pot over medium-high heat.
•
Once hot, add oil, garlic, ginger, and onion. Sauté, stirring 
occasionally for 5-8 minutes or until the onion has developed a slight 
sear (browned edges).
•
Add 1 cup (240 ml // amount as original recipe is written // adjust
if altering batch size) of the vegetable broth to deglaze the bottom of
the pan. Use a whisk (or wooden spoon) to scrape up any bits that may
have stuck to the bottom to enhance the flavour of the broth.
•
Add remaining 5 cups vegetable broth, soy sauce and dehydrated
mushrooms.
•
Bring to a simmer over medium heat, then reduce heat to low
and cover. Simmer on low for at least 1 hour, up to 2-3, stirring
occasionally.
•
Taste broth and adjust seasonings as needed, adding more soy
sauce or sesame oil if desired. Add the miso paste at this time.
•
When you're 30 minutes from serving, prepare any desired
toppings (see notes for miso-glazed carrots, baby bok choy, and quick-
seared tofu).
•
NOODLES: Fill a large saucepan or pot with water and bring to a
boil. Once boiling, add ramen noodles (depending on size of pan you
may need to do this in two batches // use fewer or more batches if
altering batch size) and cook according to package instructions – about
4-5 minutes. Drain and set aside.
•
Strain broth and reserve mushrooms for serving. (Save onions
and ginger for serving as well, if desired, though I discarded them).
•
To serve, divide ramen noodles between four serving bowls. Top
with strained broth and desired toppings, such as carrots, bok choy,
green onion, or seared tofu. Serve with MAHI Peri Peri Garlic sauce for
added heat.