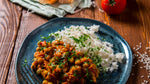 Here's a great spin on an already great dish - we've made it Vegan by removing cream and adding coconut milk so it really can work for anyone! Chickpeas are rich in protein and fibre and all the ingredients in this dish are wholesome and nutritious! 
Prep time: 10 minutes
Cook time: 20 minutes (including rice) Total time: 30 minutes
Servings: Up to 4 people
2 tbsp olive oil

2 white onions

1 handful cherry tomatoes

3 cloves of garlic

1/2 lime

2 tbsp MAHI Green Savanna Habenero sauce 1 tbsp curry paste

1 can coconut milk

1 can chickpeas

1 tbsp soy sauce

1/2 cup white rice 1 cup water

2 pinches salt
Optional: 

1/2 cup cauliflower/broccoli/peas
Instructions:
Add your rice, water and salt into a pan and bring to the boil. Once the water is boiling, place a lid over and reduce the heat to low and let it cook for another 12-15 minutes.
While your rice is cooking, chop your veggies! This includes your onions, garlic, cherry tomatoes and any extra vegetables you may want to add. Juice your lime, too.
Drizzle your olive oil into a pan and add your chopped onions. Cook on a low to medium heat until the onions have started to turn clear, then add your garlic. Cook for another minute.
Add your curry paste and coconut milk, mixing it in until it's nicely dissolved. Add a little more salt and do a taste test. Add in two tablespoons of our MAHI sauce and mix again.
Grab your chickpeas and make sure their drained, rinsed and ready to go! Pour them into your pan, adding your soy sauce and any extra veg you've included. Cook on a medium heat for around 5 minutes, bringing your curry
to the boil.
Add your chopped tomatoes, basil, and lime juice and reduce your curry to a simmer for the next 2-3 minutes. Time to taste again! If needed, add a little more soy sauce, or some brown sugar. Stir again.
Check your rice by forking through it to make sure it's fluffy!
Take your curry off the stove and let it sit for 5 minutes. Serve your curry with rice and any fun extras you'd like - personally we love a popadom or two!