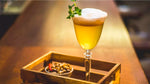 We all have different taste buds, and as such, different preferences when it comes to a whole array of food and drink.
One such type of food is hot sauce, which is often hotly debated by people who worship the spice and by those who don't.
But if you're a slave to the spice Gods, much like us, you'll want to dissuade the naysayers and instead find more ways to incorporate spice into your meals – that includes cocktail hour, because we all know that's the most important meal of the day.
So if you're looking to add a little more spice to your night cap, here are our top five suggestions:
A spin on a classic
The Bloody Mary. We're all familiar with the tomato-based cocktail, but did you know how it easy it would be to add a dash of spice into the mix? This recipe comes from the official Tabasco website, so you know you're going to be in for something a little spicy. Follow the recipe in the usual way: add your vodka, add your tomato juice, and then load it up with as much hot sauce as you desire – and enjoy.
Try something a little new
While it's not strictly using hot sauce as its secret ingredient, this recipe does include something that has been known to cause the eyes to water: wasabi With that, all you need to do is add two ounces of vodka and ½ ounce of simple syrup, some lemon, and away you go. Easy, spicy, and delicious!
The V.I.P (very important peppers)
This cocktail was born in a bar in New York City called Middle Branch, its official name being the torchlight, we stumbled across this and found hope in its spicy flavourings. The recipe is quite extensive, but all good things take hard work – so grab your cayenne pepper and down the hatch.
You know it, you love it
Of course, sangrita was going to make this list. The traditional Mexican drink is often used as a chaser to tequila, and while some may have abandoned the beverage in favour of a bite of lemon, the spicy drink remains in the heart of purists everywhere. If you're someone who treads on the side of 'the spicier, the better', then this recipe from Liquor.com will become a firm favourite of yours. Bottoms up!
Last call
To see us out, may we introduce you to the ghost pepper rye sour, a concoction that includes whiskey, lime juice, and lethal ingestion – a sauce that is made up of Fatalii, Red Savina and Bhut Jolokia chillies. But be warned, this sauce received a reputation as being the world's hottest non-extract sauce. For those of you who are chilli connoisseurs, that list should be enough to tickle your fancy. And if not, you should still avoid putting a straw into a bottle of habanero sauce, just trust us on this one.