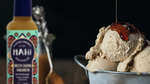 It is autumn and what better way than to experiment and learn new interesting, recipes to try out.

This time, we'll beat the heat by getting into the heat.
Introducing Thai Chilli Peanut Ice Cream.
You read that right.
Thai Chilli Peanut Ice Cream.
 You must be thinking – "what in the world?!"
We swear to you, this is going to be good.
While we enjoy that sweetened frozen food in different types and different flavours, typically eaten in summertime, but preferably available all year round, whether have it from the streets of London, or even as a dessert in restaurants, or from time-to-time a tub kept in a family home's freezer, an ice cream is arguably the best food you can eat to lighten up your mood.
Heck, if you are even a fan of ice creams you will know exactly what differs between a gelato and a sherbet; a rolled ice cream and a popsicle, a soft serve and a sorbet – all of which are different kinds of ice cream. And throughout the years and throughout mankind's evolution, even ice cream has embraced growth and modernization with new ice creams of the future. Industrial and modern technology has made a variety of ice creams such as dairy free ice cream, non-melt ice cream, nitro ice cream, two-color ice cream, rainbow ice cream, sandwich ice cream, mochi ice cream, glow in the dark ice cream, yogurt ice cream, fruit induced ice cream, and including being inventive and creative in creating new flavours and names to this wonderful food such as turning cakes into edible, frozen, creamy food – blueberry cheesecake, strawberry cheesecake, black forest cake ice cream, red velvet cake ice cream, cookie dough ice cream, rocky road ice cream; even turning drinks into ice cream - coffee crumble ice cream, matcha ice cream, kool-aid ice cream to name a few of them; and who would forget tasting the season's ice cream such as a pumpkin pie ice cream over Halloween, or a peppermint ice cream or a mint-chocolate chip over Christmas; weird and cool ice cream combinations like ginger and pineapple ice cream, toasted coconut chocolate chip ice cream, smores ice cream, cereal and milk ice cream, coffee and donut ice cream, cinnamon toast ice cream (honestly we could go on and on with this!) all of which eaten in a bowl, or a cup, a regular cone or a sugar cone, or even in a sandwich, with toppings such as chocolate chips, marsh mallows, jelly, fresh or dried fruits, nuts, peanut butter cups,  whipped cream, sprinkles, hot fudge syrup, caramel syrup, strawberry syrup – you name it. This frozen creamy delight is full of wonders made for luxury or for fun.
While all these sounds yum to you and us, we are more convinced to make a home-made ice cream made out of wonderful things, starting with experimenting vegan induced cuisine and turning it into something enjoyable that even your friends and family would love. Because let's face it, everyone's favourite and go-to flavour that is Vanilla can sometimes be too plain, too boring or old-fashioned.
 For the most part of this recipe, it's all based on the Thai Chilli Peanut that is usually served as a sauce in most tasty Thai cuisine.
Traditional Thai dishes contains healthy foods, largely based on vegetables, fresh herbs and spices, plus that lean protein that we need for a much healthier diet.
If you've ever travelled to Thailand, you'd agree that the Thai cuisine has one of the tastiest foods you'll ever have - one which you'll always look for and crave for, and one which you'll be saying "I'll need to try that again!"
And if you have - or haven't - this recipe will basically represent what we were referring to with all it's flavors of sweet-spicy, Thai-nutty blend, scooped into a bowl of goodness and creaminess. It won't cost you much, plus the use of coconut milk makes this ice cream a dairy free ice cream pleasure.
Caution: This recipe contains peanut, coconut, chilli and citrus which may trigger allergies
 
Here's what you'll be needing:
Ingredients
2 3/4 cups (660 ml) all-natural canned coconut milk
1 ⁄3 cup (67 g) organic unrefined cane sugar
3 tablespoons (45 ml) organic agave
2 tablespoons (32 g) all-natural creamy peanut butter
2 teaspoons (10 ml) lime juice
1 teaspoon Thai chilli powder or cayenne pepper
1/4 cup (30 g) peanuts, shelled and roasted
1/4 cup (25 g) shredded coconut
Preparation:
Use a high-speed or immersion blender to mix the coconut milk, sugar, agave, peanut butter, lime juice, and chilli powder. Cover and chill the mixture for at least 2 hours, or overnight.
Once the mixture is chilled, add it to your ice cream maker and churn it according to the manufacturer's instructions. Most machines take 10 to 15 minutes depending on the temperature of the mix, and when it's finished it should look like soft serve.
Once it's churned, transfer the ice cream to a wide, freezer-safe container and fold in the peanuts and coconut, making sure to maintain the air that was churned into the base. Cover the ice cream tightly and freeze it for at least 5 to 6 hours, or until it is firm.
This ice cream will keep in the freezer for a couple of weeks in an airtight container, but it's best when consumed fresh
Optional: You may add crunch or more of that nutty flavour to your self-made, home-made Thai Chilli Peanut Ice Cream with some chopped caramelized peanuts on top or mixed in the ice cream
Prep Time: approximately 30 minutes
Cook time: 45 minutes (with an ice cream maker)
Total time: 1 hour 15 minutes
Nutritional facts about this recipe:
Coconut Milk - whether canned or fresh, coconut milk naturally contains high in fat and low in carbs, making it perfect for a keto* diet
Organic Unrefined Cane Sugar – which are also so-called unrefined sweeteners have the least refining process which then retains most of the original cane molasses.
Organic Agave – coming from agave nectar is a sweetener popularly hailed to be a healthier alternative to regular sugar
All-natural creamy peanut butter – that only means that it is all-natural, no preservatives, high in healthy fats which half of the fat in peanut butter is made up of oleic acid**
Lime – this fruit is high in vitamin C and antioxidants. Eating limes or drinking lime juice may improve immunity, reduce heart disease risk factors, prevent kidney stones, aid iron absorption, and promote healthy skin.
Chilli powder – the capsaicin content in red chilli powder is known to increase fat burning and reduces food cravings, as well as increases metabolism
Cayenne powder – contains the same as chilli powder, with less chilli attributes
Peanuts – peanuts can be one of the best additions to transitioning to a plant-based lifestyle. It's a good source of healthy fats, protein and fiber, along with potassium, phosphorous, magnesium and B vitamins
Shredded coconut – rich in fiber and may offer improved heart healthy, weight loss, and digestion
Why we love this recipe:
We love that this ice cream is vegan, all guilt free, plant based, and full of vitamins and nutrients.
Because this food is made frozen, the chilli ingredient would feel like a lingering chill on the tongue while enjoying it's sweet, tasty coconut and peanut mix. And while we're at it, we definitely vouch for the combinations that is coconut and peanut, with its healthy facts, helping improve health and weight loss, and its flavours as the cherry on top.
We hope that you love this as much as we do
And we hope you have fun making it as well!
MAHI Twist
MAHI Ground ginger (as added taste / caramelized peanuts in and candied ginger?)
MAHI Red Savina Habanero or Green Savina Habanero (instead of cayenne pepper or Thai chilli powder)