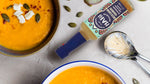 The addition of blended cannellini beans gives this soup a creamy and velvety texture.
Ingredients:
2 tablespoons olive oil 
1 medium white onion, roughly chopped 
8 cups pumpkin flesh, finely cubed 
½ cup cooked cannellini beans 
1 teaspoon fresh thyme leaves 
1 teaspoon grated fresh ginger
½ teaspoon salt
¼ teaspoon black pepper 
4 cups vegetable stock 
Preparation
In a large pot over medium-high heat, warm oil. Add chopped onion, pumpkin, beans, thyme, and ginger. Sauté for 5 minutes, or until vegetables begin to soften, then add salt and black pepper. 
Pour in stock, cover pot with a lid, and simmer for 10 to 15 minutes, or until vegetables are cooked through. 
Remove pot from heat and take 1 cup of stock out of pot. 
Use an immersion blender to blend mixture in pot until a smooth consistency is reached, adding in reserved stock as needed. 
Between four serving bowls, divide soup, sprinkle croutons, pumpkin seeds, and parsley, and serve immediately.
Enjoy!