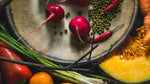 Welcome to the world of vegan. Whether you're committing to this journey for January only or you're planning to adopt this into your everyday life, veganism is a great way to explore new foods, stretch your tastebuds, and lower your carbon footprint. 
But if you're new to a vegan lifestyle, you may find yourself on rocky terrain while you work out which foods you enjoy, what meals are your go-to, and what to try.
Your go-to
While you work out whether you prefer tofu to seitan, or how to cook with jackfruit, it's important you have some familiar staples from your pre-vegan days.
Going vegan doesn't mean that you need to give up all of your favourite foods – it just means you need to be more careful about what you do eat. If you incorporate similar flavours that you're used to, then it makes the ease into veganism a lot smoother and more sustainable for the long haul.
An old favourite  
If you have an inclination towards the spicy – which we're going to guess you do, considering you're reading our blog – then you're probably fearful of going vegan as you may associate it with a lack of flavour or spice.
This couldn't be further from the truth. 
In countries such as India and Israel, veganism is a traditional lifestyle choice as many of the popular dishes don't include meat or dairy. For example, aloo gobi is complete vegan and often uses many Indian spices to bring out the flavours.
Although it is a misconception that all Indian dishes should use hot spices, that doesn't mean that chillies would seem out of place in the dishes.
Sauces are your friend
In fact, in many instances, Indian and Israeli cuisine isn't the only type to incorporate heat. Mexican food and Chinese dishes are both known for adding in additional heat when and where they can – although this type of food isn't known for being meat-free, it's easy enough to make a vegan variation. Veganism isn't about sacrifice, it's about adaptation. A lot of people assume that the flavour is wrapped up in the meat, but that isn't true. There are many simple ways you can incorporate an abundance of flavour while still retaining the vegan label. An easy way to do that is through hot sauce.
For example, it's fairly easy to swap out the mince meat of a tortilla with a Quorn variant – add in the Chipotle Sweet Heat sauce and then you'll be able to enjoy a traditional Mexican meal while still doing your bit for the planet and your body. Another option for those craving something juicy, is to invest in the Jerk Barbeque Sweet Heat sauce. If you grab some jackfruit or seitan, and generously spread our Spicy Mahi sauce over the top, then you won't be able to notice the difference. 
Veganism has been around for years and chillies, spices, and hot sauce have always been something that followed along beside it in close conjunction. A vegan lifestyle isn't a sacrifice, it's a chance for you to try your favourite spicy foods in a new way.