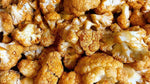 Cauliflower, the wearer of many hats! It's come a long way from the vegetable our 6-year-old selves used to reject. If the genius innovation of this vegetable had been around when we were younger, then eating our veggies probably wouldn't have been as much of a tantrum-causing fiasco as it was back then.
Nowadays, this wonderfully versatile veggie has all kinds of magical powers, from pizza to pasta, cauliflower is replacing all of our favorite comfort foods...& we couldn't be happier about it! There's nothing better than enjoying all your guilty pleasures without the guilt. Whether we're camped out in front of the T.V binge-watching Netflix or spending a weekend at home in our PJ's, these are times when our snacking goblins come out to play and when we tend to overindulge the most. The important thing is to always be prepared.
Instead of reaching for that bag of crisps, we have a cheat for you—It's trickery of the best kind! Our Bang Bang Cauliflower recipe is the ideal solution for those emergency snack attacks.
CAULI THE CHAMELEON RECIPIE
Ingredients: 
3 tbsp. extra-virgin olive oil
3 tbsp. Mahi Scorpion & Passion sauce
Juice of 1 lime
3 cloves garlic, minced
1 medium cauliflower, cut into florets
Salt and pepper to season
1 tsp. chopped coriander, for garnish
Method:
Preheat oven to 425 F.
In a small bowl, whisk together olive oil, Mahi Scorpion & Passion sauce, lime juice, and garlic.
Break up the cauliflower into smaller bite size pieces.
In a pot, fill with water and bring to a boil. Add Cauliflower and parboil.
In a heavy bottomed pan, char the cauliflower so that the sides crisp slightly.
On a large baking sheet, toss cauliflower in sauce until fully coated.
Season generously with salt and pepper.
Spread into an even layer and roast until slightly charred and tender, 30 to 35 minutes.
Garnish with parsley and serve with your favourite Mahi Hot Sauce for dipping.
Social Caption:
Cauli cauli cauli chameleon! You'll be singing it too when you get a taste of your new movie night snack! Our bang bang cauliflower bites are the perfect balance of crunchy, crumbly and jam packed full of Mahi flavor! #SaucyMahi #meatfree #healthyish